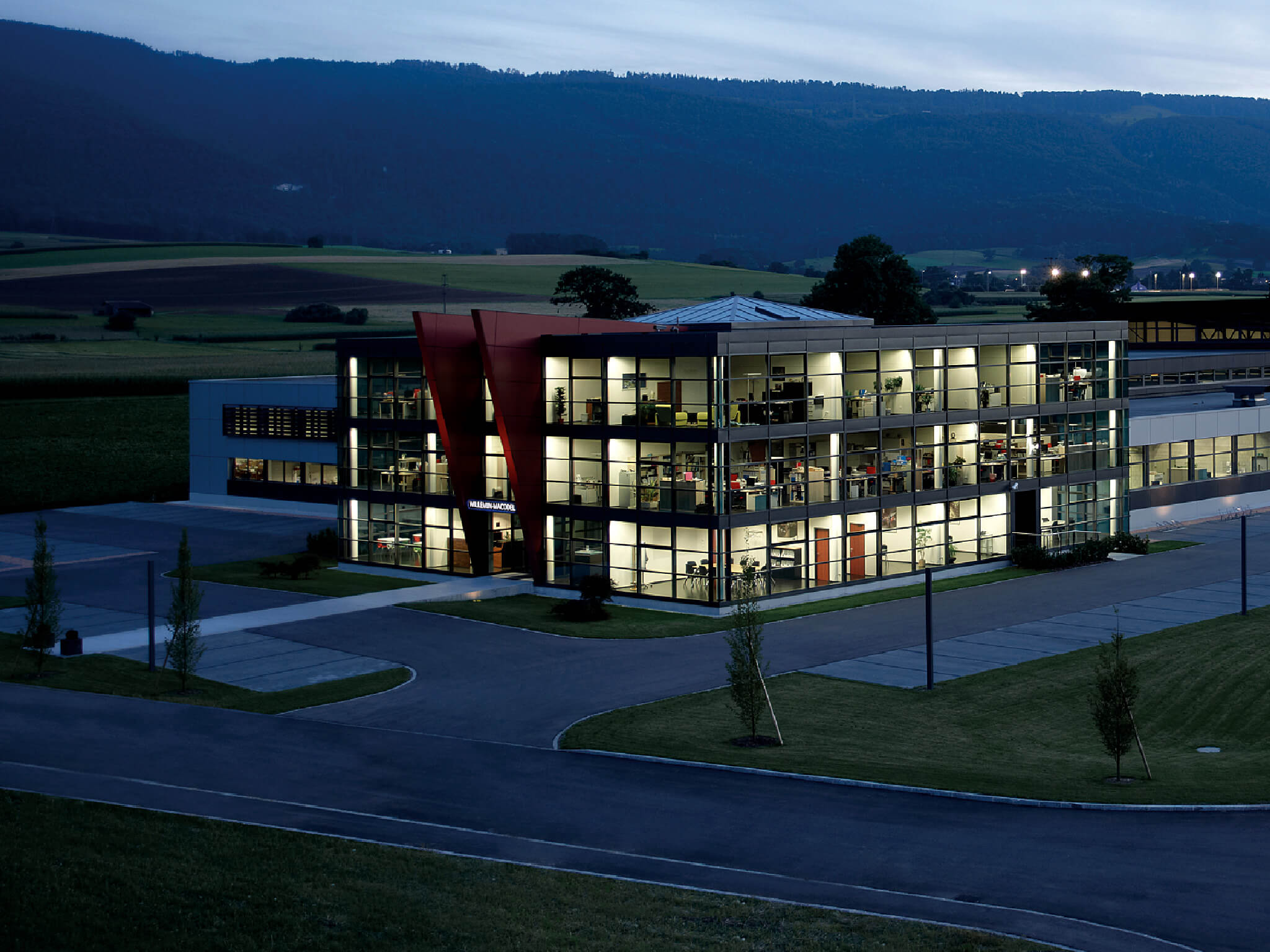 15 April 2019
Constant innovation, absolute precision
Offering its customers perfectly tailored solutions, Willemin-Macodel creates ultra-precise equipment for various fields in the microtechnology manufacturing sector. Our strength? Innovation!
Founded by Blaise Haegeli in 1974 in Delémont, in the famous Jura Arc – a hotbed of microtechnology – Willemin-Macodel remains a family business to this day. With the founder's two sons at the helm, we can mobilize quickly to satisfy our customers.
Encoded in Willemin-Macodel's DNA from the start, innovation inspires and drives our teams in equal measure. From its first milling machine, launched in 1974 and the first machine able to reproduce the complex shapes used in watchmaking, to the 5-axis machining centers and the parallel kinematics machine, the world firsts just keep coming.
"For more than 45 years, Willemin-Macodel has been providing cutting-edge custom machining solutions for complex, very high-precision parts with high added value", says Denis Jeannerat, R & D Director. "Our service is entirely personalized, from the initial feasibility studies right through to machine support during the entire life cycle. That's how we can offer comprehensive solutions that respond exactly to the demands of the market."
A unique solution for every situation
This combination of innovation, experience and market knowledge is placed entirely at the service of users: who can draw on a huge array of microtechnology manufacturing units, including 3-axis parallel kinematics machining centers with sub-micron precision or 5 simultaneous axes; billet or bar milling and turning centers with backworking; and, of course, made-to-measure automation systems.
"Willemin-Macodel harnesses its entire production chain by anticipating its customers' needs", says Jeannerat. "That allows us to deliver around 200 turnkey machines per year, entirely designed and built in our workshop. Each machine undergoes a range of exacting tests before delivery."
On the lookout for new materials
Equipment built by Willemin-Macodel uses next-generation components – such as machining spindles, dividers, backworking mechanisms, tool magazines, automation systems and custom-made clamps – all designed and made in-house. As Denis Jeannerat explains, "Every customer will find a solution that perfectly meets their needs in terms of functionality, precision and production rate".
This equipment processes complex parts in a wide range of materials including stainless steels, titanium alloys, composite materials, ceramics, and chrome/cobalt and nickel/chrome alloys. It is suitable for industrial sectors as diverse as watchmaking, aeronautics and medicine, but which share a common denominator: a need for impeccable quality.
"We're always alert to new materials, like ceramics, so we can adapt our machines. That's how we perfect our spindles and adapted machining trajectory tracking solutions, as well as improving tool/material torque. With that in mind, we work actively with the many engineering schools in the region to harness its wealth of microtechnological expertise."
Birth of a virtuoso
That's how one of our ground-breaking machines, the 701S, was born. A true technological break-through that surprised and amazed attendees at EMO 2013. The first machining center to make full use of the dynamic control and rigidity offered by linear delta type parallel kinematics, allowing for extremely high-precision machining at exceptional speeds.
The powered spindle was developed specifically to work in perfect harmony with the machine's parallel kinematics, and around forty units are currently proving their worth in workshops. The tools are fixed directly to the powered spindle, without a tool holder.
"Used in the manufacture of micro-tools, this set up offers exceptional machining speeds. Machining times are therefore reduced by a half or two thirds, and the fastest machining speed we've seen was eight times quicker", says Denis Jeannerat.
The market doesn't wait, and neither does Willemin-Macodel
But there's no chance of the company resting on its laurels: "We pay particular attention to the major trends emerging in the microtechnology industry. The constant miniaturization of parts requires us to devise new solutions to be able to manufacture them", explains Jeannerat.
"The micro-parts used in medical procedures to restore a patient's sensory sensitivity are a good example. There's also the micro-molds needed for lighting and cell phone applications. Then there's the changes to the size of the runs manufactured by our customers. More and more often, they face requests for small runs of parts that vary greatly.
"Willemin-Macodel therefore favors automated machining solutions, which enable autonomous operation. More reliable and with improved thermal resistance, the machines are full of sensors and installed in flexible cells capable of working 24 hours a day, 7 days a week, without the need for an operator.
"One robot can serve several machines. Changing parts, clamping, refreshing tools, completing inspections, feeding information back to the CNC… it can do almost everything." Lastly, manufacturers weren't anticipating the advent of the "Industry 4.0" concept, which involves increased connectivity in their machines, making them even smarter. "We have to keep moving in this direction and improve both the equipment's dialogue capabilities and the workshop management system", concludes Jeannerat.